Cemeteries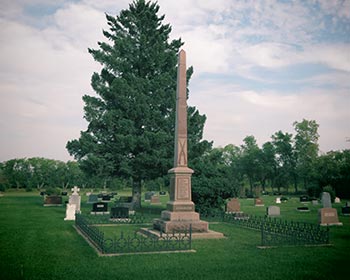 Kevin Henry - Secretary
Cell - 204-871-0343
Bev Anderson
Home - 204-685-2094
Cell - 204-871-0267
Barrie MacDonald - Vice Chair
Home - 204-685-2513
Cell 204-856-9825
Doug Muir
Home - 204-685-2669
Cell - 204-856-6140
Cam Cleaver - Chairperson
Home - 204-685-2514
Cell - 204-239-8142
---
Austin Cemetery unmarked graves update:
Plots are $50.00 each. This includes cornerstones, payable to Austin Cemetery. Perpetual maintenance fee of $150.00 one time and is tax deductible, payable to the Municipality of North Norfolk.
Columbaruim
- $1100.00 per niche and $2000.00 for a companion niche. One niche will hold two small urns. A niche is 12x12x17. There is no perpetual maintenance fee and engraving is done at your own expense at Portage La Prairie.
For plot purchases or staking of a plot please contact Janice Wiebe by phone at 204-249-0845 or by email at
3creeks@mymts.net
. For information regarding historical requests please contact Arlene Jarema at 204-466-2838.
---
Contact - Joan Manns 204-466-2799
---
Contact - Rodger Leckie 204-685-2368
---
Contact:
Robert Smith 204-685-2812
Kenneth Wright 204-685-2544
If you wish to make a donation to any of these cemeteries, please make cheques payable to the Municipality of North Norfolk. In order to receive a tax deductible receipt, donations must be over $25.00. Cheques can be mailed to Box 190 MacGregor, MB R0H 0R0.